We aren't just
Co-Working...
we are
Co-Wellness
At the Den we have created a space for you to feel relaxed, yet energised for your working day. 
Our unique community work space is about good vibes and a chilled, boutique environment.
A place to belong, to feel part of Tenerife surs growing Digital Nomad community, and create lasting friendships. 
With spacious desks, comfy chairs, and located just 200 metres away from a black sand beach, we have all you need to survive the working day.
A meeting room that is included in the price and can be reserved for calls, lots of outdoor seating on our terrace and a full events calender with things to do everynight, we have you covered for your remote working experience on the island. 
So what are you waiting for? Come and check out the Den for yourself. 
Great space to work from and meet people. The Community that Roy is building is really something great and you'll be sure to return anytime you work in Tenerife.
Anton Chabanenko
2022-01-13
Awesome place. Reliable internet and only 50 meters from the beach. I was working from there for about two weeks and can recommend Zen Den as a great co-working in Costa Adeje. Next year I will first book the place at Zen Den and only then start searching for apartment to live nearby.
Ritchie Llewellyn (Rich Adventure)
2022-01-12
The Zen Den saved me! I had booked a stay in a local hotel which I planned on working remotely from except the hotel had poor connectivity and terribly slow internet. I searched for days looking for a co-working space in the south, in the Los Cristianos, Las Americas and Fanabe beach area. Most co-working spaces I found were simply too far, situated in the North of the island and really inconvenient to get to. As I was about to give up I came across The Zen Den! Roy is friendly, welcoming and just an all round good dude. I chose the 10Day Flexi pass membership which is well priced and worked best around my ever changing work schedule. The internet is lightning fast which was essential for me working in broadcast - sending large files gigabyte files back and fourth. The Zen Den provide free coffee, cool water and a shared fridge for your packed lunch... or just ask Roy - his local lunch recommendations did not disappoint! The Zen Den is a great little community, regularly putting on events such as improv comedy, 'after-work' drink, Spanish lessons and more. The Den is a great place to meet friends with the diverse, cool, open-minded people it attracts. I'll will definitely be back on my return to Tenerife!
Olívia Zelenáková
2022-01-04
The Zen Den is an amazing place to work, it's super cozy and full of nice people. It has everything you need to be productive. Thanks to Roy there's a really friendly atmosphere and I immediately felt like home. Great location, close to the beach with lots of cafes and restaurants nearby. Can't wait to be back. 🙂
Álvaro Bermejo
2021-12-30
Amazing place with incredible vibe! Roy is a perfect host that can help with anything you may need! Would recommend if you are in town.
A wonderful place to work with an amazing vibe! The co-working is located in a chill area, only 5 minutes from the beach (perfect if you want to take a walk to the beach on your work breaks). High-speed internet, coffee, tea, water and fruits. If you prefer to work outside, there are some tables and chairs from where you can have your calls or relax. A meeting room is also available. Roy has such an amazing energy and is there to always help us! If you like events, the Zen Den is organizing a lot of them, just ask 😉
A nice coworking with nice people. The coworking is close to restaurants and close to the beach, it's the perfect location. The internet is super fast and the owner is always here to help us. I recommend!
Veronica Walicki
2021-12-16
Thank you Roy for the positive atmosphere you create inside&ouside the office. Zen Den is my reference point here in the South, I'm feeling at home ❤️
A Central HUB to fully
integrate you into island life.
As you have probably noticed, the Den is not just any shared office space.
Its the most centrally located, dedicated Coworking in the South of Tenerife. The perfect place to meet other professionals in the Nomad community and immerse yourself in island life.
With daily activities to take part in, a dedicated host working in the office and access to local recommendations of excursions and co-living accommodation.
It really is a true Nomad Community HUB for your time working on the island.
Our aim is to provide the best co-working solution for you in Tenerife.
With super spacious desks, chilled easy listening sounds and comfy and no expenses spared seating.
Our aim is simple, to not just be the most central choice but the best choice for Coworking in the south of Tenerife.  
Book the meeting room for a call, grab a coffee and have a break on our outdoor terrace or simply walk a few steps and be on a beautiful beach. The Den is a perfect place to find work/life balance in your island life.
The options are endless and with suggestions to find accommodation with our partners, or order healthy food directly to your desk. We have your integration to the community covered.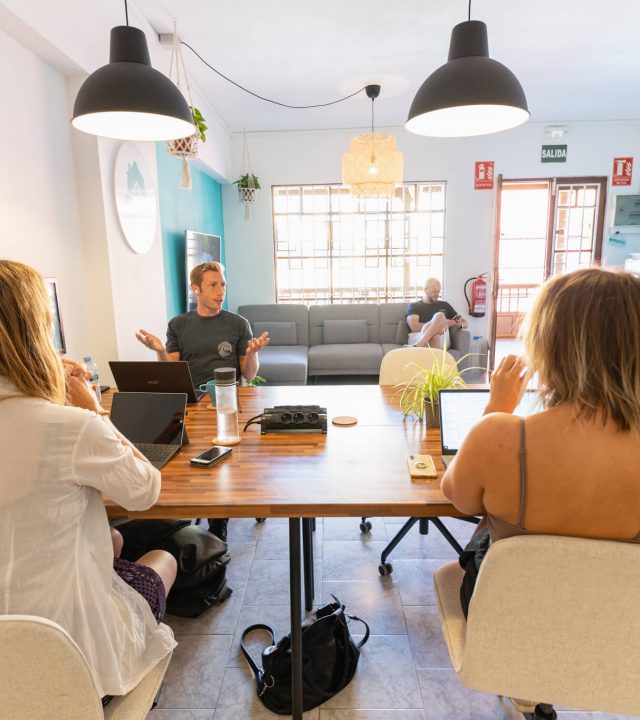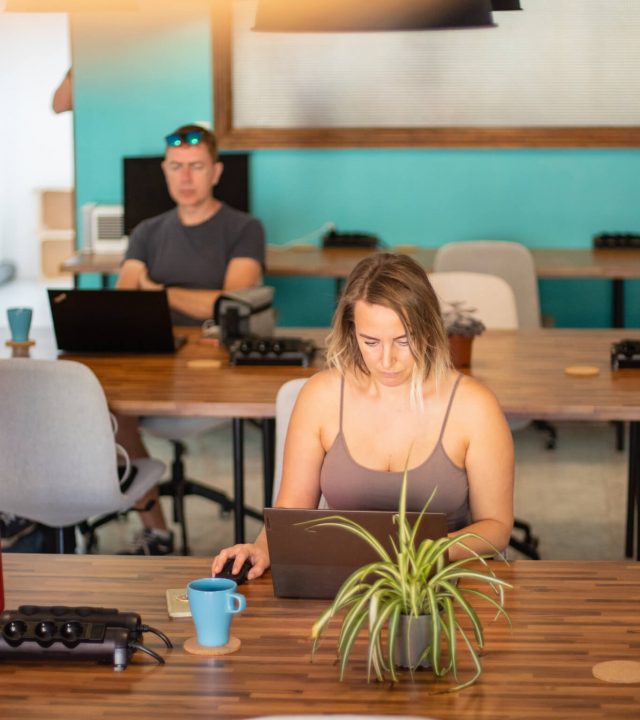 Pricing and Packages to suit you
Book for One Day, One Week or even One Month.
Or for ultimate flexibility pick up one of our popular 10 day flexi -passes if you don't need the space everyday. 
We also offer packages, including various Class + Coworking rates and sometimes offer free Coworking space when booking a retreat with us at the Den.