We aren't just
Coworking...
we're your way to get connected.
At the Den, we haven't just created an outstanding Coworking Space in the South of Tenerife, it's also the HUB you need to become part of the Digital Nomad and Remote Worker community.
Our unique Coworking space in the south of Tenerife is about good vibes and a chilled, inclusive environment.
A place to belong, to feel part of Tenerife South's growing Digital Nomad and Remote Worker community and create lasting friendships. 
With spacious desks, comfy chairs, a chilled environment, and located just 200 meters away from a popular beach. We have all you need to survive your working day.
But that's not all…
We have a meeting room that is included in the price and can be reserved for calls. 
Lots of outdoor seating on our chilled terrace. A full Digital Nomad and Remote Worker events calendar with things to do every night.
Our HUB has you covered for your remote working experience in the South of Tenerife. 
So what are you waiting for? Come and check out the Zen Den Coworking for yourself. 
Simon Robinson
2022-05-30
Really great co-working space with a strong community vibe and friendly staff. Events organised regularly, great internet speed, comfortable desks and a convenient location.
Awesome coworking place. The vibe is excellent and the location is perfect. If you are remote working from Tenerife you definitely want to check this place !
This is an awesome coworking space, super fast Internet, nice people, spacious office and the beach is right next door. 🏖😎 Roy is an amazing host and really looked after us with all our needs. Definitely coming back again. Thank you Zen Den. Digital Love James & Agata 💖
Екатерина Финько
2022-05-23
Wonderful place not only for working but also for after work activities. Roy is doing his best to make your staying at Tenerife as good as possible. And you also become a member of Zen Den community for free if you want.
I've been staying in Adeje for several months and Zen Den became my second home here. It's more than just a coworking space. It's a community of like minded people. There's a meetup every week where you can meet and talk to digital nomads from different parts of the world. And the owner of this space is amazing – very welcomming and really cares for his residents. Much recommended for everyone who's planning to stay on the island and work in paradise!
I definitely love this place. If you're a digital nomad, you must try to work at Zen Den.
Really great co-working space in Tenerife. This is the place to go to if you want to work and be productive, but also want to meet other remote-workers. The best thing might be that they really care about the community and facilitate as lot of events to meet other remote workers.
The co-working space is located in a very nice area, close to everything, in proximity to the inspiring ocean. It is well equipped, managed by the great people and having great community. I was working from my place, so didn't have chance to work from there, but can say for sure that it is an absolutely great pleasure to be around the community. It would be my recommendation to try it for those who are looking a nice and comfortable place to work and opportunity to meet interesting people
The zen den in Tenerife is such a great space to work in, there are lots of different areas, so as a coach I was able to work effectively and serve my clients. I actually found the zen den in Tenerife during a really difficult time personally, and it provided me with so much support and comfort. Roy is extremely friendly and helpful, suddenly I was in lots of group chats and overwhelmed with events and things to do! Everyone I met was welcoming and I thoroughly recommend the zen den if you want a great space to work, while being surrounded by a like minded community of nomads and a sense of connection and belonging. Great location, right by the beach and you can get food prep delivered by a Brazilian chef, amazing! I'll be back for sure! Thanks so much Roy, until next time!
Claartje Vogel
2022-04-27
I loved working at the Zen Den. It's a professional co-working space with good WiFi, coffee, tea, water, and a private office you can reserve for short meetings. The owner Roy is the most amazing host. He is friendly, communicative, and really cares about making everyone feel included in the nomad-community. Extra perks: it's super close to the beach and all kinds of great spots for lunch. The community is quite diverse: all ages, all kinds of occupations, and from all over the world. I went there for a few weeks in a row and would definitely go again if I'm back in Tenerife. Thank you, Roy!
A Central HUB to fully
integrate you into island life.
As you have probably noticed, the Den is not just any Coworking space.
Its the most centrally located, dedicated Coworking in the South of Tenerife. The perfect place to meet other professionals in the Nomad community and immerse yourself in island life.
Want daily activities to take part in? We have a dedicated Community Manager working in the office. So you get access to local recommendations of excursions and Coliving accommodation, right at your desk. 
Looking for a true Digital Nomad and Remote Worker Community HUB for your time working on the island? We have you covered. 
Our aim is to provide the best coworking solution for you in Tenerife South.
With super spacious desks, chilled easy listening music, and comfy, no expenses spared seating.
Our aim is simple, to not just be the most convenient choice but the best choice for Coworking in the South of Tenerife.  
Need Privacy? Book the meeting room for a call. Need energy? grab a coffee and have a break on our outdoor terrace. Need to chill? simply walk a few steps and be on a beautiful beach. Hungry? We have a food delivery service so you can order to your desk.
We knew this type of Coworking was lacking here in Costa Adeje, so we created a place we would like to work in ourselves. The Den is a perfect place to find work/life balance in your island life.
The Zen Den has your integration into the Digital Nomad and Remote Worker Community covered.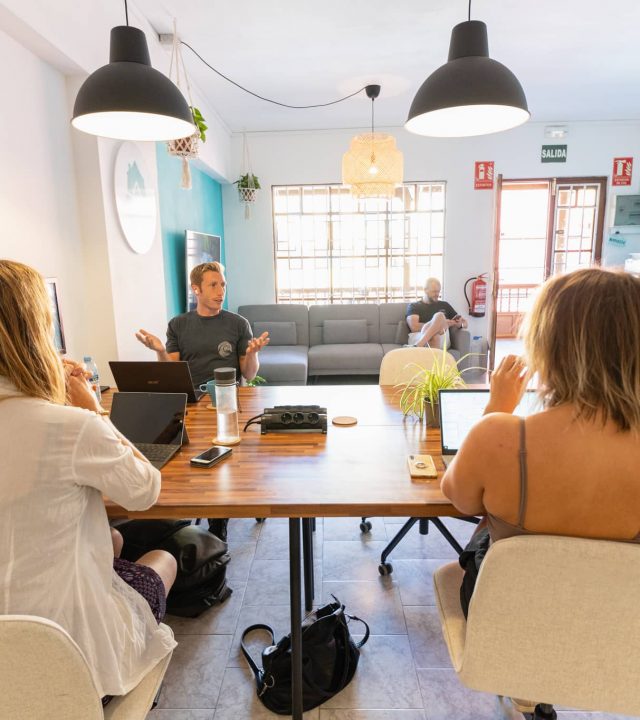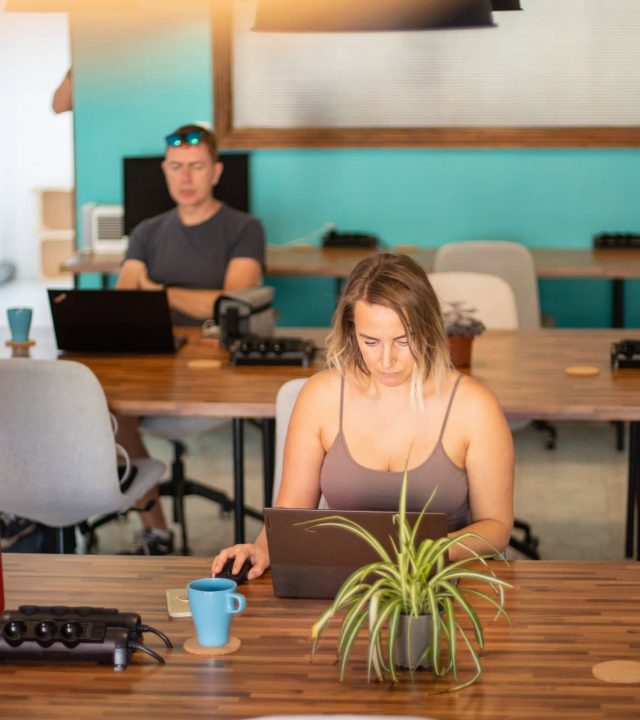 Coworking Pricing and Packages to suit you
Because we have One Day Passes, Weekly Passes and Monthly Access. 
Or for ultimate flexibility pick up one of our popular 10 day Flexi -Passes, if you don't need to Cowork everyday. 
Find out about all our Coworking plans and passes below.
Take the stress away from Coworking and chill at our HUB.