We aren't just
Coworking...
we're your way to get connected.
Our unique Coworking space in the south of Tenerife is about good vibes and a chilled, inclusive environment.
A place to belong and Tenerife's highest rated Coworking Space, the Zen Den connects you with the Digital Nomad and Remote Worker community. Helping you feel at home in Tenerife. 
With spacious desks, comfy chairs, a chilled environment, and located just 200 meters away from a popular beach. We have all you need to survive your working day.
But that's not all…
We have a meeting room that is included in the price and can be reserved for calls. 
Lots of outdoor seating on our chilled terrace. A full Digital Nomad and Remote Worker events calendar with things to do every night.
Our Coworking and Community HUB has you covered for your remote working experience in the South of Tenerife. 
So what are you waiting for? Come and check out the Zen Den Coworking for yourself. 
charlotte suffys
2022-08-30
Productive nomad life at the ZenDen The ZenDen has become an essential part of my life, not only as an office but also as a community, while I have been navigating between London and Tenerife the last couple of months. Why I love the Den? - Productivity - I need to be productive and get all my work done. The ZenDen is really a professional co-working space where you can focus, motivated by the other hard-working ZenDenners. WiFi connection works flawlessly, additional monitors are available as well standing desks (small and big ones). It opens at 8AM – I love early starts to the day! - Efficiency – I loved working at the ZenDen because it allowed me to be efficient too. No time for cooking? Optimise your free time while ordering delivered food by the ZenDen´s recommended chefs or take away lunch from the abundancy of restaurants within 5 minutes of walking from the ZenDen. Do you want to get good at a certain hobby like salsa or surfing while working remote? The ZenDen helps you with all the needed connections and offers already weekly classes of salsa and yoga. You want to crunch in a lunch run along the beachside and shower at the Den? Yes, you can! - Atmosphere – The community at the ZenDen is amazing and the people are lovely kind-hearted spirits (especially Roy, the host at the ZenDen). I loved joining in on Friday evening dinners but a lot of the ZenDenners also meet and plan weekend activities together.
Could not recommend enough ☺️ Roy has created an excellent working space with a great atmosphere which really makes the working day fly by! Very approachable and friendly guy who is always happy to help out also! (He got me out of one or two holes before 🤣) 10/10 😅
Michael Neyndorff
2022-08-09
The Zen Den is een fijne plek om op locatie te werken. Roy is een aardige en zorgzame gastheer. En na werktijd loop je zo het strand op 🙂
friendly people, cozy & nice coworking space with a great location 😊
Looking for the best co-working in the area? Here you go. Super friendly, fast internet, the best place to work well but also with a lot of fun remotely. Thanks Roy! Keep up the great work
Simply the best Coworking i found Costa Adeje/Los Cristianos. Good vibes, spacious desks and a strong focus on making me feel welcome. I went to salsa dancing, yoga and had networking drinks to meet other remote workers. Roy you rock!! 🤘🏻
Fantastic first coworking space experience I booked in for a day at Zen as my first experience of shared coworking spaces after finding the place through coworker.com. Awesome comms, great location, and overall a really good space, I experienced the peace needed to get on and do what I needed to do. Roy was incredibly friendly and welcoming, managing to create a community to connect like-minded people both professionally and socially. The Nespresso machine was a godsend, and the rest of the facilities were high-quality and available. Cheers!
As a part of company benefit I spent on Tenerife over a month. I was looking for a coworking spaces around and this one was the best I found. Its spaces are newly reconstructed and owner is keep improving services. Owner of coworking space is really nice and helpful. He is also building community of digital nomads and travelers around this coworking space, so you can experience lot of amazing actions with people from all around the world. I can strongly recommend at least come here for one day. From all my previous experiences, this one is the best.
Weronika Krakowska
2022-07-11
Wonderfull place where you can truly focus on work if it's needed located near the beachside - perfect to make a breaks for swiming . What i liked the most about this place is that you can right away feel like you are part of this comunity. If not first event organized by Zen my stay in Tenerife would not be the same. I met so many amazing and inspiring ppl which i can easily call right now my friends . The owner is a guy who definately do what he loved which is connect ppl and help them to feel in Tenerife like in home ❤️ I will be back to that place for sure 🙏
This is genuinely a lovely coworking office both for local remote workers and Tenerife visitors. It's never too noisy, never boring and it smells like a spa, seriously 🙂 The coffee machine is a life saver and the owner, Roy, has a never-ending list of recommendations for you to do on this island. It definitely takes the headache away when you're new here and don't want to be working from your living here. Oh and the beach is about a 40 second walk from the office. Nothing beats a chilled lunch-break while watching the ocean.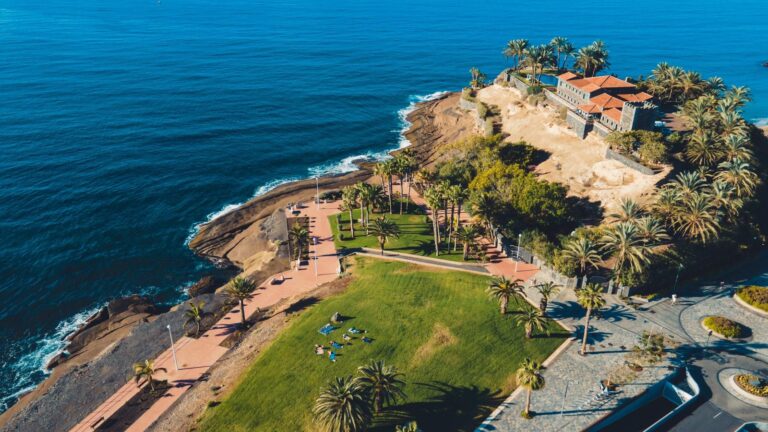 Zen Den Tenerife IS the centre of the Remote Working Community in Tenerife.
As you have probably noticed by now, the Zen Den is not just any Coworking space.
It's the most centrally located, dedicated Coworking in the South of Tenerife. The perfect place to meet other professionals in the Digital Nomad and Remote Working Community and immerse yourself in island life.
Want daily events to take part in? We have a dedicated Community Manager working in the office. So you get access to local recommendations of restaurants, excursions, and Coliving accommodations. Without even leaving your desk. 
Want to be part of the biggest Digital Nomad WhatsApp community on the island with over ten different sub-groups, look no further.
The Zen Den IS the centre of the Remote Working Community in Tenerife and is your one-stop shop for finding all the resources and groups you need to have the perfect stay in Tenerife.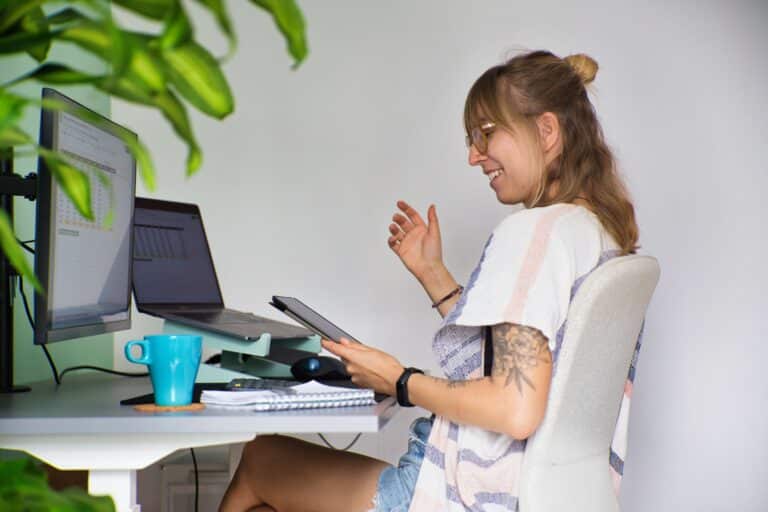 Our aim is to provide the best Coworking solution for you in Tenerife.
With super spacious desks, chilled easy listening music, and comfy, no expenses spared seating.
Our aim is simple, to not just be the most convenient choice but the best choice for Coworking in Tenerife.  
Need Privacy? Book the meeting room for a call. Need energy? grab a coffee and have a break on our outdoor terrace. Need to chill? simply walk a few steps and be on a beautiful beach. Hungry? We have a food delivery service so you can order at your desk.
We knew this type of Coworking was lacking here in Tenerife, so we created a place we would like to work in ourselves. The Zen Den is a perfect place to find work/life balance in your island life.
The Zen Den has your integration into the Digital Nomad and Remote Worker Community covered.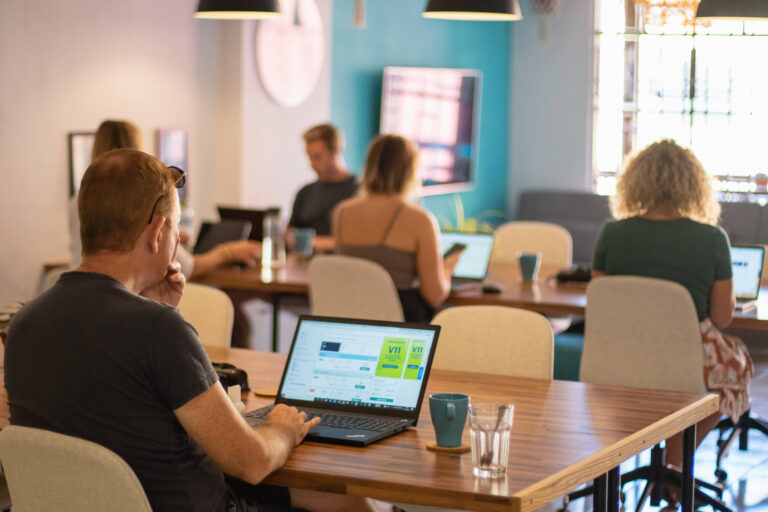 Coworking Pricing and Packages to suit you
At Zen Den Coworking, we have One Day Passes, Weekly Passes, and Monthly Access.
Or for ultimate flexibility pick up one of our popular 10-day Flexi Pass, which enables you to come and go as you please.
Find out about all our Coworking plans and passes below.
Take the stress out of your Remote Working experience in Tenerife and come and work with us at the Zen Den.