We aren't just
Coworking...
we're your way to get connected.
At the Den, we haven't just created an outstanding Coworking Space in the South of Tenerife, it's also the HUB you need to become part of the Digital Nomad and Remote Worker community.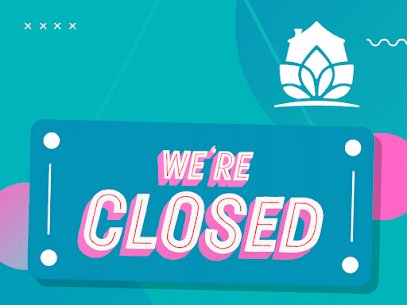 We will be closed for Renovations from 15th August for at least a week. Sorry for the inconvenience but we assue you it will be worth it.
Our unique Coworking space in the south of Tenerife is about good vibes and a chilled, inclusive environment.
A place to belong, to feel part of Tenerife South's growing Digital Nomad and Remote Worker community and create lasting friendships. 
With spacious desks, comfy chairs, a chilled environment, and located just 200 meters away from a popular beach. We have all you need to survive your working day.
But that's not all…
We have a meeting room that is included in the price and can be reserved for calls. 
Lots of outdoor seating on our chilled terrace. A full Digital Nomad and Remote Worker events calendar with things to do every night.
Our HUB has you covered for your remote working experience in the South of Tenerife. 
So what are you waiting for? Come and check out the Zen Den Coworking for yourself. 
Simply the best Coworking i found Costa Adeje/Los Cristianos. Good vibes, spacious desks and a strong focus on making me feel welcome. I went to salsa dancing, yoga and had networking drinks to meet other remote workers. Roy you rock!! 🤘🏻
Fantastic first coworking space experience I booked in for a day at Zen as my first experience of shared coworking spaces after finding the place through coworker.com. Awesome comms, great location, and overall a really good space, I experienced the peace needed to get on and do what I needed to do. Roy was incredibly friendly and welcoming, managing to create a community to connect like-minded people both professionally and socially. The Nespresso machine was a godsend, and the rest of the facilities were high-quality and available. Cheers!
As a part of company benefit I spent on Tenerife over a month. I was looking for a coworking spaces around and this one was the best I found. Its spaces are newly reconstructed and owner is keep improving services. Owner of coworking space is really nice and helpful. He is also building community of digital nomads and travelers around this coworking space, so you can experience lot of amazing actions with people from all around the world. I can strongly recommend at least come here for one day. From all my previous experiences, this one is the best.
Weronika Krakowska
2022-07-11
Wonderfull place where you can truly focus on work if it's needed located near the beachside - perfect to make a breaks for swiming . What i liked the most about this place is that you can right away feel like you are part of this comunity. If not first event organized by Zen my stay in Tenerife would not be the same. I met so many amazing and inspiring ppl which i can easily call right now my friends . The owner is a guy who definately do what he loved which is connect ppl and help them to feel in Tenerife like in home ❤️ I will be back to that place for sure 🙏
This is genuinely a lovely coworking office both for local remote workers and Tenerife visitors. It's never too noisy, never boring and it smells like a spa, seriously 🙂 The coffee machine is a life saver and the owner, Roy, has a never-ending list of recommendations for you to do on this island. It definitely takes the headache away when you're new here and don't want to be working from your living here. Oh and the beach is about a 40 second walk from the office. Nothing beats a chilled lunch-break while watching the ocean.
Really friendly and helpful! A great place to do some work whilst on holiday! Tempted to move out here and work there permanently it was that good!
Working from home can have its benefits…and challenges. Going to the library for their wifi is great…if you're quiet as a mouse and enjoy dial-up speeds. I was in dire need of a coworking space with positive energy and fun atmosphere to get refocused and tackle my personal and professional tasks. A friend recommended Zen Den in Costa Adeje so I figured I would give them a shot. Roy, the owner, greeted me upon arrival and gave me a world class tour. His awesome energy and upbeat personality made me feel right at home. My first experience was great and led me to purchase their flexi-pass, perfect for those on a budget such as myself. The wifi is super fast, not like the snail pace speeds at the library, complimentary coffee and tea, fruit and filtered water. Oh yeah, their's a shower in case you want to go for that midday beach swim to blow off some work steam. Are you a digital nomad interested in getting things done? Or perhaps a creative looking to create around like minded humans? Look no further, Zen Den is for you!
Great coworking space! Quite to work highly concentrate, but also lovely people to have chat with. There is a meeting room for private calls and a shower, if you want to visit the beach in your lunch break 🤩
I came to Tenerife on holiday but needed to work, The Zen Den saved me and I got super fast internet and strong coffee when I needed it. The Coworking was right next to my hotel and I still went to the beach on my break. Excellent location and service 👏🏻
My first experience of Coworking was in New Zealand, I wasn't expecting to find the same standard in Tenerife. Professional host, service and good opening hours. All the mod cons of a major city office space but you can be at the beach in two minutes. Great location with free parking closeby. Thanks.
A Central HUB to fully
integrate you into island life.
As you have probably noticed, the Den is not just any Coworking space.
Its the most centrally located, dedicated Coworking in the South of Tenerife. The perfect place to meet other professionals in the Nomad community and immerse yourself in island life.
Want daily activities to take part in? We have a dedicated Community Manager working in the office. So you get access to local recommendations of excursions and Coliving accommodation, right at your desk. 
Looking for a true Digital Nomad and Remote Worker Community HUB for your time working on the island? We have you covered. 
Our aim is to provide the best coworking solution for you in Tenerife South.
With super spacious desks, chilled easy listening music, and comfy, no expenses spared seating.
Our aim is simple, to not just be the most convenient choice but the best choice for Coworking in the South of Tenerife.  
Need Privacy? Book the meeting room for a call. Need energy? grab a coffee and have a break on our outdoor terrace. Need to chill? simply walk a few steps and be on a beautiful beach. Hungry? We have a food delivery service so you can order to your desk.
We knew this type of Coworking was lacking here in Costa Adeje, so we created a place we would like to work in ourselves. The Den is a perfect place to find work/life balance in your island life.
The Zen Den has your integration into the Digital Nomad and Remote Worker Community covered.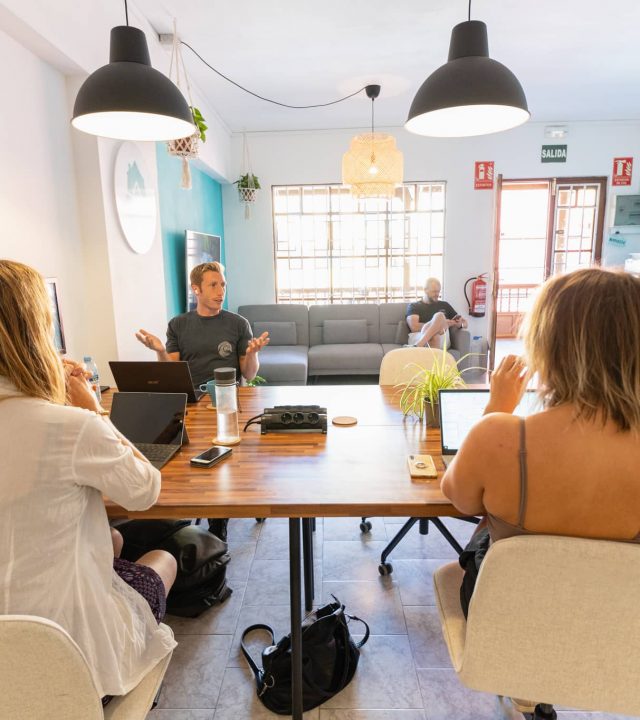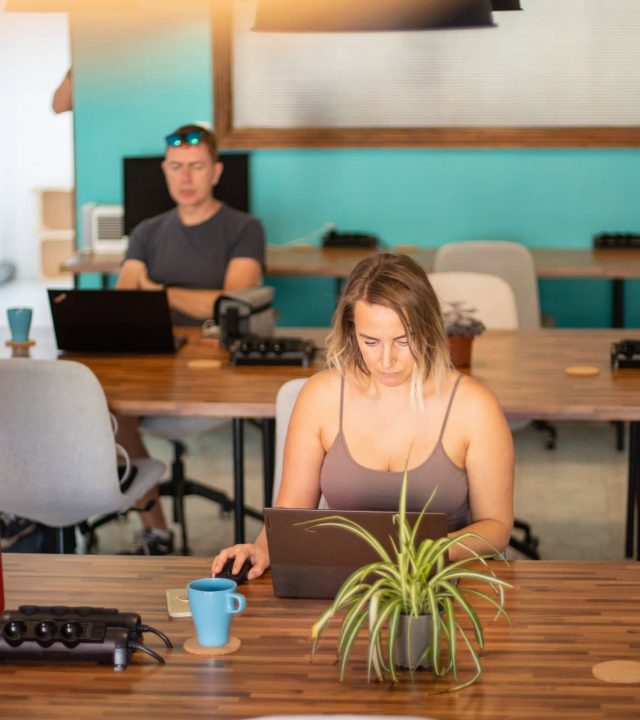 Coworking Pricing and Packages to suit you
Because we have One Day Passes, Weekly Passes and Monthly Access. 
Or for ultimate flexibility pick up one of our popular 10 day Flexi -Passes, if you don't need to Cowork everyday. 
Find out about all our Coworking plans and passes below.
Take the stress away from Coworking and chill at our HUB.